Every year, the prestigious Patriot Scholarship Award goes to a Binghamton High School student who deserves recognition for not only their work in the classroom, but also their positive influence outside of it.
Join us in recognizing this year's Patriot Scholarship winner: BHS senior Elijah Legagneur.
Ranked 35th out of the 366 students in his class, Elijah has consistently pushed himself to be the best he can be. His guidance counselor, John Matyas, describes him as diligent, responsible, dynamic, courageous, and mature beyond his years.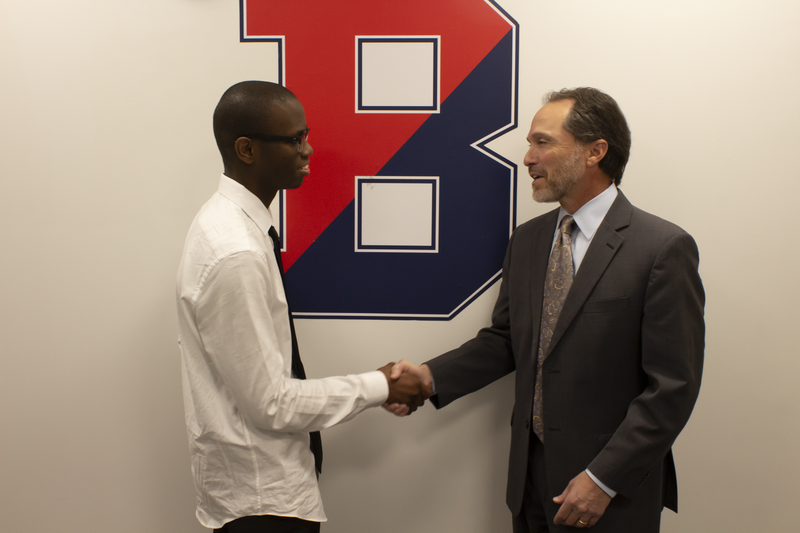 In addition to his high grades and participation in several advanced-level courses, Elijah is active outside of school. He has worked as a busser at a local restaurant over the last year, and is an active volunteer – at the PALS Café and as a construction worker for his adopted family.
Matyas also noted how strong Elijah has been. Despite turbulent circumstances outside of school, he has maintained an elite level of academics and brings joy to all who meet him.
"It has been a privilege to have had this young man attend our high school and any institution or workplace that chooses to accept him will be better off because of him," said Binghamton High School John Matyas, who has gotten to know Elijah well over the past several years.
The Patriot Scholarship was established in the mid-1980s. It is awarded each year by an anonymous donor to a BHS senior who is ranked in the top 100 students in their class, demonstrates good attendance, and has made positive contributions to their school. Students who receive the scholarship are awarded $5,000 for the first year of college, and $2,500 annually for the next three years.
The goal of the scholarship program is to aid a student who might not otherwise be able to as effectively further their education without the award.
We chatted with Elijah, about winning the scholarship, his future, and how he would advise all students to stay resilient in the face of adversity:
---
Question: What does winning the Patriot Scholarship mean to you?
Answer: It means a lot to me. It validates the hard work and dedication I've had throughout the years. It helps me with college. I was fearful of college expenses and how I would manage that. This is very comforting. I want to show appreciation of my team (my teachers and counselors) at BHS and I want to thank Mr. Matyas for nominating me. I have had trouble with my self-image and feeling appreciated, so being nominated for this, it shows me that many people do care and they notice me, my hard work, and my accomplishments.
Q: What are your goals and dreams for the future?
A: After my college degree, I plan to work as a transportation worker in Broome County. I would like to then expand and become a locomotive engineer downstate, possibly with Amtrak. I would like to live comfortably, engage in my hobbies, and contribute to society. I think I will love this career, as I like driving big machines and helping people to get to important places.
Q: What colleges are you considering, and what are you thinking of studying?
A: I am considering SUNY Broome, Binghamton University, and Queens College. I plan to obtain my associates degree in computer information systems.
Q: What advice would you give to a high school student who may be struggling about staying on track academically?
A: I have struggled myself with staying on track when my life felt out of control. It's difficult. I would encourage others to try and never give up. Do not throw in the sack, keep pushing and know that there is a passion behind what you are doing and a reason. Do not forget that reason. We have a purpose and you need to realize that purpose. I would tell others to not give up when life is hard. It is about enduring the race and pushing yourself. There are understanding people along your route to help and encourage you.